Joined

Dec 8, 2005
Messages

1,543
Reaction score

0
Location
Country
Marvel vs DC RPG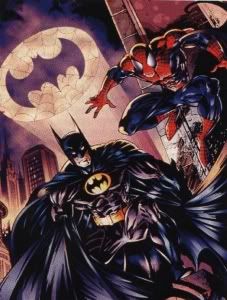 Gamemaster:

Dernhelm

Asst Gamemaster:

jacques

Rules

:

At last, the ultimate battle in comic book history has arrived. Marvel Versus DC. Take part as your favorite character from each world and battle it out.

Any character is playable except God and immortal heores [Eg: Thor, Galactus, Darkside]

The rules are the same as the first chapter, refer here if you do not know how to play.

http://www.sengo.com/forums/showthread.php?t=13071

A quick recap: You can do an attack on ur opponent and then ur opponent has only one post to reply. If not the damage will be ushered to the opponent, 2 hits and he/she's out. For the battle only, not the whole game.

The Story

:

During the previous civil war battle, the explosion of Sinister made a portal between two worlds. Marvel and DC. Without knowing, the DC world emerged from the portal. Both forces have met and sought to destroy each other, thinking they both are enemies. The villains and the heroes for each team have joined forces to get rid of their rivals..

(you can select any hero/villain, these are just some egs.)

The teams: Marvel Heroes

- 0

Wolverine

fiery rock

Punisher

Jacques XVII

Spiderman
Sprigner

Doc Ock
Pompey72b



Venom


Irish Minum



Hulk


Ricky DC protectors

- 0

Batman

Ewan

Superman

hayec004

Composite Superman

2drunk2pluk

Green lantern

Select a Hero and your name will be written under it. The game will start once there are enought heroes.

Registration Form:

Name of Your Hero:
One Good Reason why you want to be him/her:
Powers of the Hero:​

I will approve the forms

Rules:

-No vulgarities during a battle.
-No exaggerating of powers
-No time travel,planet teleport, etc..
-Only minus life when there the opponent fails to dodge ur atk(did not reply on the next post after urs).

Please fill in your registration forms and have fun! the match will start after there are enough heroes.