Joined

Oct 20, 2004
Messages

487
Reaction score

202
Location
Country
Played a panzer battle on the Eastfront, The Russian have 6x T-34 & 2x SU-85 vs the German 2x Panthers, 2x Tigers and one Pz IVH. The Russians have more infantry than the Germans and two hidden Guns (AA 85L & ART 76L).
The Germans quickly stumble into trouble.
... but, Turn 1 MPh, German footsoldiers receive fire in hex FrFA H3 (6 FP -2 DRM) and one of the soldiers -with the name Stock - step it up acting like a Hero, shortly thereafter his kid-brother (Stock) with another squad is attacked in hex FrFA L3 (1 FP -2 DRM), and also became a Hero.
...Turn 2 MPh, another German Hero is generated nr 3 (Woods hex FrFA P5).and the poor Russian unit in the Woods hex receive Advancing-Encirclement-Fire from four direction 12 FP (+1 woods, -3 From 3 Heroes).
., Turn 3, a broken German group routs in the open interdiction in hex FrFA R4, creates Hero nr 4.
...Turn 4 MPh, a German fanatic troop creates a Fanatic Hero nr 5, while they Assault Move across open ground and is attack (FP 4 -1 DRM, hex FrFA R0)..
The German Panzer perform poorly.
1st Tiger - Eliminates a Russian squad & 9-1 Ldr, shortly thereafter Recalled.
2nd Tiger - eliminates a T-34, before it is eliminated by a T-34 with a rear shot.
1st Panther - eliminated (frontal-Shock-APCR, and thereafter destroyed by a flank shot).
2nd Panther - immobilized by a brave Russian squad, the Panther kill squad & SU-85 (the 2nd SU-85 Recalled by German Sniper).
The Pz IVH end up in a shoot out with two T-34, Roll a TH DR 12, the T-34s fires back and hits the Pz IVH with a CH but the TK DR result is a Dud, The Pz IVH quickly drive off the North edge.
The Russians now have 5 T-34 left that are hunted by 5 German Heroes with Panzerfausts (range: 1 Hex), and they also combat the Russian infantry with the help of the German infantry (2 squad-equivalents are fanatic).
The best German Infantry attack is 8 FP -4 DRM, 4 Heroes are involved vs the Russian (emplaced +2 TEM) ART Gun , DR 5, K-Slash the 228 crew.
Exit 13 Points for Victory (12 needed). A German squad must exit, Martin have its last T-34 that attack with its CMG 4 FP no effect, Gun need TH 6, roll DR 7, intensive Fire need TH 6, roll 7 again.
German heroes are like flies upon this last T-34 with panzerfists and blast it into a burning wreck.
One German Hero KIA, none of the other 4 Heroes ain't even wounded.
Crazy and bizarre play experience.
See link for pictures: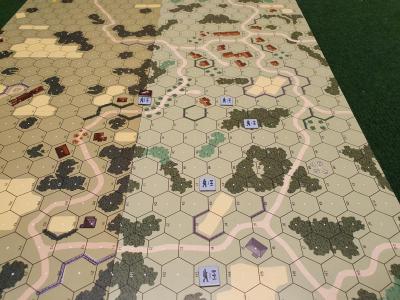 FrF 64 No Time To Bleed - posted in AAR: Spelades ett pansar slag på östftonten idag, ryssen har sex T-34 och två SU-85 mot tyskens två Pantrar, två Tigrar och en Pz IV. Ryssen har mer infanteri än tysken samt två dolda Guns. Pansar duellen går fort knackigt för tysken. ...men, Turn 1 MPh...

forum.aslsweden.com
Last edited: